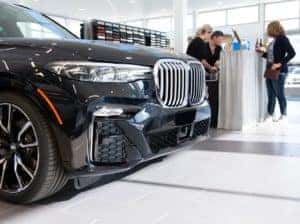 If you're searching for a BMW Service Loaner in Bend, Oregon, look no further than our BMW Dealership in Bend, Oregon. You can find excellent luxury pre-owned BMWs that fit your needs perfectly. Search our Service Loaner Specials to find excellent service loaner vehicles. Plus, view our inventory of pre-owned BMWs in Oregon, where there is sure to be a choice that will fit your lifestyle and needs perfectly. When you have your BMW serviced, we know that it can be hard to give up your luxury lifestyle. That's why we want to help you find the best service loaner in Bend, Oregon so that you don't have to give up your vehicle or your go-getter lifestyle while you keep your vehicle perfectly maintained.
SERVICE LOANER SPECIALS
There are many benefits you can find from a BMW Service Loaner Vehicle in Bend, Oregon. Besides not having to give up your lavish lifestyle, the ability to have access to great loaner vehicles and service loaner specials is equally as amazing an opportunity. Our inventory of pre-owned service loaner specials changes frequently, so check back often so you can find the perfect vehicle for you.
BMW Dealership in Bend
Our BMW Dealership in Bend is conveniently located at 1000 SE Division St, Bend, OR 97702. You can also call us or contact us online for any questions or concerns you may have. Our BMW Dealership in Bend is ready to help you in any way possible. Whether you are looking for a pre-owned luxury vehicle, or for luxury servicing on your BMW, you can turn to our BMW Auto Shop and Dealership for all of your luxury car needs.